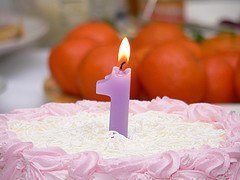 Feels like the season for birthdays and I've got my own daughters coming up. She wants a big Dora birthday party.
You don't need to pay exorbitant prices for the party planner and many of us can't afford the luxury of the "Princess for a day" parties! You can run a party yourself for less than $10 per child.
Check out some of my top tips for your next kids party.
Always make a list of attendees.
Make sure the RSVP date is 10 days before the party which will give you plenty of time to get things together and escape the night before "crazy".
Don't go crazy on the nibbles. A little cubed cheese, biscuits and chips works a treat.
Grab the 5 minute oven bake rolls from the grocery store and mini frankfurts to make mini hotdogs for the kids. My kids love these and they're so easy.
A nifty kid's salad is SIMPLE. Cucumber, tomato and cheese – cut all ingredients into small cubes and toss together in a bowl.
Bake cupcakes for dessert without the icing and decorations, leave this to the kids. Set up a table with a choice of two icing colours and a variety or toppings (smarties, sprinkles, jellies etc); then let the kids design their own dessert treat.
There should always be fruit for the kids, step outside the norm and create orange jelly cups. Cut the oranges in half and scoop out the orange flesh. Mix up some jelly and set into the orange skins. Once set cut the halves into quarters and serve. (Use the orange flesh to make orange and strawberry skewers)
Good old fashioned musical chairs is one of the best party games for kids, play some fun party tunes (always better played before lunch)
Shop at the $2 shops for lolly bag goodies. You can pick up fabulous little gimmick toys, sunglasses, hats, mask and dress up pieces that can create the best lolly bag ever.
Join in and have fun!
Have you got a tip of your own, share it with us.
Photo: flickr by Andrew J.Swan