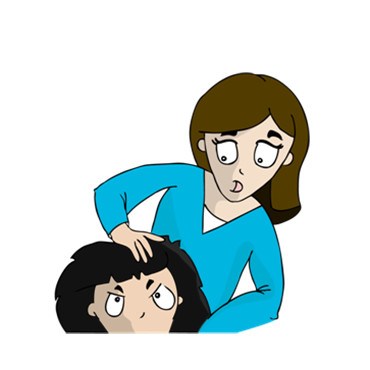 Today 1 in 4 Primary School children between the age of 6 and 11 years have head lice. Such a common ailment with children carries feelings of embarrassment, shame and hygiene. Read a NitWits customers' experience.
"It started with an itch. I had just changed shampoo and it was a change in season so I thought nothing of it. I picked my daughter up from school the next day and saw the kids lined up and the teacher had gloves on checking the children's hair. I felt disgusted, my daughter was there scratching. My house wasn't dirty, or at least that's what I thought until now.
We went straight to the chemist and picked up a treatment. We sat there for about half an hour and then I started to comb. I was absolutely horrified at these things now falling out of my daughters head, using the magnifying glass on the comb I could see clusters of eggs near the scalp.
I treated my hair, my 11 month old son and my husband's head – needless to say I had emptied the 250ml bottle.
Once done, feeling dirty and disgusted I began on the house – washing, soaking, spraying the pillows and mattresses, cushions and everything with the Anti-Lice spray, I even surfaced sprayed the house. After reading some information from NitWits I find out my frantic cleaning spell was all in vein, it wasn't necessary. Is this what every parent does or was I just overly pedantic? Why aren't we informed?
A week later I was still feeling really disgusted. I proceeded to re-treat as per the instructions and wondered whether other parents were being just as diligent.
All good ever since. Currently using the NitWits Anti-Lice and Detangling Spray and checking the kids' hair once a week. So happy not to see those crawling insects again!" -Lisa. Kogarah NSW